When you need durable, efficient and portable headquarters in the field, modular construction trailers are suitable for virtually any public or private industry or use and can be operational within days.
These prefabricated jobsite structures can be built in about half the time of traditional design-bid-build projects and at a fraction of the cost. And, aside from their low cost, flexibility and speed of completion, they are ready to roll to a new location at any time.
Companies such as Modular Genius in Joppa, Maryland, an award-winning modular builder with manufacturing facilities throughout the U.S., can fabricate portable trailers and cabins near your construction site to meet your deadlines. Their teams handle all aspects of the construction process, including foundations and site preparation, doors, windows and hardware, masonry and interior/exterior finishing, and any paving or landscaping that is required.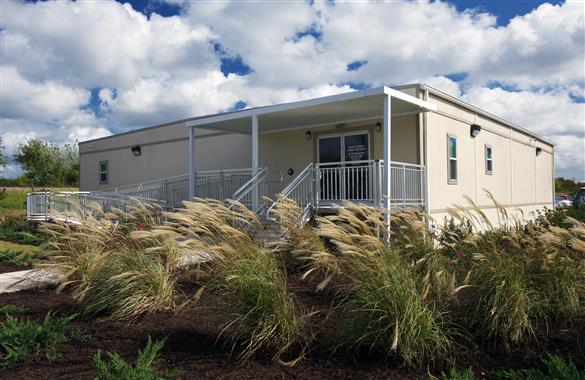 Innovative Uses for Portable Modular Trailers
Construction trailers can be simple or elaborate, climate-controlled and/or handicapped accessible. They are available with single or multiple rooms and stories, with and without restrooms. Portable buildings can be designed with wood, brick, stucco and siding exterior finishes and even custom architectural features to blend with the surrounding environment.
Popular uses for portable trailers include construction and administrative offices, swing space and special event space.  They are also ideal as temporary housing and man camps for firefighting, oilfield and mining crews, with sleeping quarters, kitchens, dining facilities and showers for 20 to 1,000 workers.
Each year, the Modular Building Institute (MBI) recognizes the commercial modular industry's premier projects in over 30 categories with Awards of Distinction. Take a look at these custom built modular construction offices that were designed to accommodate a multidisciplinary team of engineers, contractors, consultants, inspectors, and administration staff.
The 2,400 square foot U-shaped facility featured three modular units with different shapes, sizes, frames and roof lines. With an expedited manufacturing and installation process, the project was completed in just 36 days.
Another excellent example of an MBI award-winning modular application is the innovative relocatable offices and living quarters designed to accommodate oil and gas employees in a remote wellsite location with extreme weather conditions. Because access to utility services can be problematic, the modules are equipped with self contained water and LPG fuel storage systems. The 720 square foot project was completed and installed in 21 days.
Eco-Friendly Options
Modular trailers are built off-site in a quality-controlled manufacturing facility and installed at your location 40% faster than constructing stick-built buildings. Select from standard floor plans or customize them to get exactly what you need.
Choose economic building materials or green, sustainable materials with energy-saving features. The modular units are LEED-certified, fire-resistant and mold-resistant. Energy-conscious customers can opt for enhancements that include triple-glazed windows, energy-efficient utilities, eco-friendly insulation, and no-VOC or low-VOC interior wall and floor treatments.
Once completed to your specifications, the modules arrive on your site fully equipped and ready to be connected to plumbing and electric facilities.  They are positioned onto a foundation with a crane or truck, and sections are seamed together. Telecommunications and utilities are connected, furniture, OSHA stairs, landscaping and signage are installed, and your team is ready to work within minutes.
From ready-to-roll construction trailers to relocatable living quarters, you may be pleasantly surprised at the innovative ways that modular construction can solve your residential, commercial and industrial needs, both temporary and permanent. Contact a modular builder to find out more about affordable, customized space solutions for your jobsite.