Whether you need mobile office trailers, job site trailers or classroom trailers, you will find that relocatable prefabricated trailers are a smart, fast way to expand for both public and private industry.
Mobile trailers are energy efficient, cost effective & durable. And, with square footage ranging from 700 SF (room for two offices, a common work area and a restroom), to more than 14,000 SF, (room for 38 offices, conference rooms, restroom, and file and storage areas), it's easy to see how they can accommodate the needs of just about any temporary or permanent project.
Most mobile office trailers are already wired for electricity and are heated and air-conditioned. They are generally available fast, are far lower in cost than conventional construction, are space efficient, environmentally friendly, and can be relocated at a moment's notice. Some trailers are even available furnished, so all you need to do to get started is to unlock the door.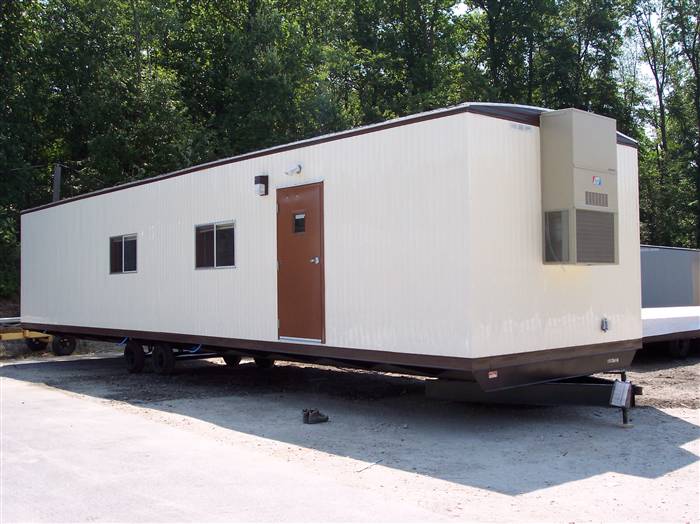 If you've always dreamed of the freedom that your own personal office-on-wheels could provide, check out the prototype for the Airstream "Pursuit" mobile home-office which was designed by students at the Columbus College of Art and Design. It may be available in the Airstream product line within a few years.
Uses for Portable Office Trailers
Construction site offices: Supervise everything on the jobsite with a mobile office trailer that you can move from project to project. Meet with sub-contractors, review construction plans and monitor progress throughout the day. Or equip the trailer as a cafeteria, with microwave, toaster, refrigerator and coffeemaker, to give employees a relaxing place to enjoy coffee before work or lunch away from the hot sun.
Mobile retail sales offices: Mobile office trailers are a great solution when you need a temporary sales center at a festival or special event.  Incorporate window coverings, awnings, carpeting, special finishes, ramps and decking to blend with your surroundings, and install Wi-Fi and high-speed internet so that you can finalize sales transactions on the go.
Mobile classrooms: Overcrowded classrooms have a negative impact on the way children learn. If you are short on space, consider mobile trailers for temporary or long-term use. In a school setting, they are also ideal for use as administrative office space, daycare centers, libraries, media rooms, science labs, locker rooms, equipment storage and more. 
Mobile libraries: Seasonal, rural and remote communities often struggle to find the services they need, such as a library. A mobile trailer can be equipped with reading materials and learning resources, Wi-Fi and computer access. The library trailer can be transported wherever and whenever you need.
Decontamination trailers: Alleviate safety hazards that occur when employees work with chemicals or other toxic materials.  These trailers can be designed and installed quickly and set up in remote areas. They're designed with separate clean rooms, showers and dirty rooms, and are finished to resist water and chemical damage. Decon trailers provide a clean, comfortable environment and are available in a wide range of sizes, colors and options.
Portable press boxes: While conducting a fundraising event or an election campaign which will attract the press, a mobile trailer equipped with ample electricity, Wi-Fi and high-speed internet is the perfect solution. Reporters can check credentials, work on their reports and enjoy the company of other press. When your event is over, simply relocate the trailer to a new location.
Mobile office trailers are readily available and priced for many different budgets. When your business or application requires mobility, consider how a portable trailer could meet your needs.