If you are involved in the petrochemical industry, government agencies, the military or defense industry, or any industry where there is an increased chance of explosion, fire and danger from toxic materials, consider blast resistant modular buildings to provide a safe environment for personnel to work, sleep and store sensitive equipment.
When explosive liquids, solids or gaseous materials detonate, the resulting chemical reaction creates a hot, high-pressure blast of gas that can potentially engulf and damage or destroy any structures in its path with a great amount of energy. If your employees or operators occupy those structures, they will be at risk of injury or death. Blast-resistant buildings are capable of saving lives and protecting equipment.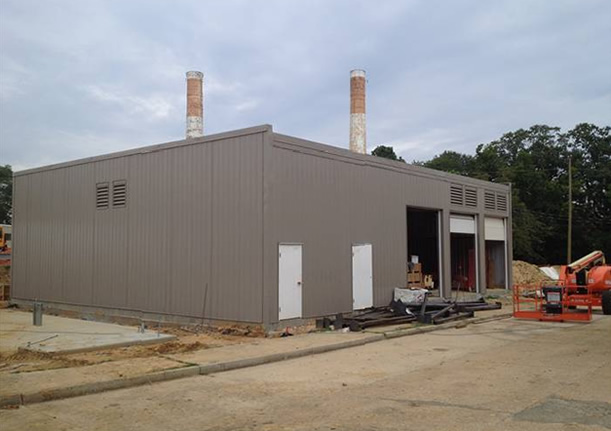 Blast-resistant modular structures are available to comply with U.S. Government standards, American Petroleum Institute (API) guidelines, and specific mission requirements related to anti-terrorism and force protection, and other applications, including:
Forced-Entry/ Ballistic-Resistant (FE/BR) Buildings
Sensitive Compartmented Information Facilities (SCIF)
Remote instrument enclosures
Ammunition bunkers
Controlled access areas
Compressor stations
Sensitive substance storage
Metering and instrumentation stations
Emissions control and monitoring stations
Analyzer and motor control center buildings
Blast-resistant tool cribs
Safety bunkhouses on drilling rigs
Testing facilities
Safe rooms
Guard Booths
Control Rooms
Storm Shelters
The inherent design of modular buildings makes them far more flexible in the event of a blast than traditional reinforced concrete and masonry buildings. They have the ability to bounce back under significant blasts without collapsing under the pressure. The roof is also far less likely to collapse, which drastically reduces the chance of casualties.
Blast-resistant structures require specialized engineering and fabrication to deflect blast impact. Exterior walls have to be properly reinforced and doors must be able to withstand jamming. Interior walls need to be finished with fireproof materials so that employees will have adequate time to evacuate in the event of an emergency, and the materials must dissipate the shock of a blast and minimize shrapnel that occurs when the outer walls flex inward.
Depending on their intended purpose, mobile blast-resistant structures can be customized with ultraviolet and corrosion-resistant exterior coatings. Inside, they may need custom flooring, hard surface countertops, drop ceilings, or outfitting for extreme temperature fluctuations, humidity and high dust levels. Interior components, like electrical, plumbing and cabinetry designs, as well as interior furnishing must also be designed to protect the vulnerable occupants and contents.
Other advantages of standard modular buildings also apply to their blast-resistant counterparts. They are manufactured off-site, so there is minimal disruption at the construction location. They generally cost half as much as traditional buildings. They can be delivered in a very short time for quick occupancy. The ability to place them in blast zone areas improves worker efficiency. And they can be relocated and reused time and again.
As you make the transition to safer and more productive work spaces in your blast-susceptible workplace, it's important to find a modular buildings company who is committed to response level ratings and regulatory compliance. Take a closer look at all of these critical factors before you invest in blast resistant modular buildings.