When you started your new real estate, insurance or advertising business, a shoestring budget probably limited you to sharing office space with others or working out of the local Starbucks. Now that you're ready to graduate to an office of your own, how do you choose (and afford) a work environment that fits your sales team? And what happens if your business outgrows the space? Will you be able to dedicate more of your budget to expansion? Think outside the trailer, and consider mobile sales offices.
Gone are the days of the portable office trailers we remember from the past. State-of-the-art modular design and construction technologies now enable businesses to design portable sales offices that are functional, attractive and flexible. Today's options are sleek, durable and efficient, and offer an ever-growing range of possibilities in designs and floor plans. They are also faster to complete and more eco-friendly than conventionally built structures.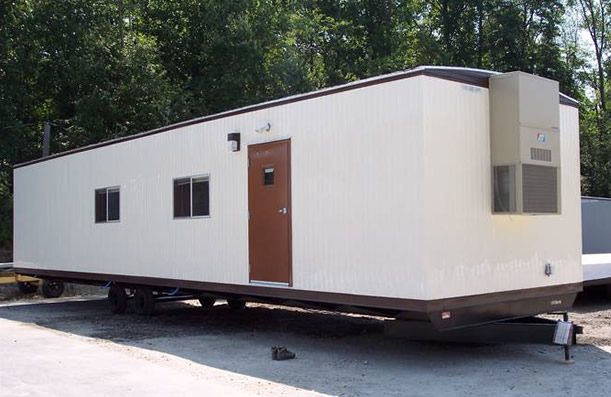 Modular buildings can be built to suit any conceivable purpose. If you're a real estate developer, you may need a sales office that can be easily moved from one set of new model homes to another. If you're a music promoter, your rock band may benefit from a relocatable office that can travel around the country from music festival to music festival. Prefabricated modular buildings are also ideal if you need to conduct training or seminars in different locations.
Any factory can construct a simple modular building, but it takes imagination, creative design and detailed project planning to create a successful modular project. Modular Genius, headquartered in Joppa, Maryland is one example of a modular manufacturer that can add depth, color and texture to your mobile sales offices to convert an ordinary flat surface into one that will impress your customers.
Modular buildings meet or exceed all state and local building codes, cost substantially less than conventionally built offices, and the ready-to-use space can be delivered in a very short time for quick occupancy. As your business changes or you no longer need the mobile space, the modules can be moved and repurposed or eliminated. Portable buildings have a strong secondary-use market, so they offer good resale potential compared to temporary trailers. This also makes them inherently "green," since they can be relocated and reused time and again.
If you know you will be moving your portable office frequently from site to site, it can be designed to make it easy to move at a moment's notice. On the other hand, if you plan for a more permanent location, the building can be placed on the ground or on a foundation, yet still be moved with minimal effort.
Consider landscaping around your permanent modular office with trees and shrubs to add to its appeal. Create an impressive entrance by using porticos and porches, and integrate customized rooflines and window/door treatments. Use glass and natural lighting in imaginative ways. Single and multi-story modular office trailers can be designed to suit any conceivable purpose, with exterior finishes such as brick, stucco, siding and other architectural surfaces.
Innovative, even unusual, modular sales office designs also boost morale and, in turn, creativity and productivity. When you and your sales team need to stand out from the crowd, well-designed mobile sales offices can create a memorable experience for customers and differentiate your business from its competitors.