Have you seen the amazing work that modular building companies are doing these days?
Gone are the days of those portable office trailers we remember from the past. State-of-the-art modular design and construction technologies now enable you to design modular offices, classrooms, sleeping quarters, healthcare facilities, daycare centers, and even churches and worship centers that are functional, attractive and flexible.
Today's options are sleek, durable and efficient, and offer an ever-growing range of possibilities in designs and floor plans. They are also faster to complete and more eco-friendly than traditional stick-built structures. Virtually any type of space you need can be prefabricated in a few months at an average of 20% savings.
Innovative Modular Solutions
Award-winning builders like Modular Genius are busy creating solutions for every industry – residential, commercial and industrial – from military barracks and work camps, to complete school campuses, to multi-story medical centers, to state and national park visitor centers and ranger stations, to relocatable radio stations!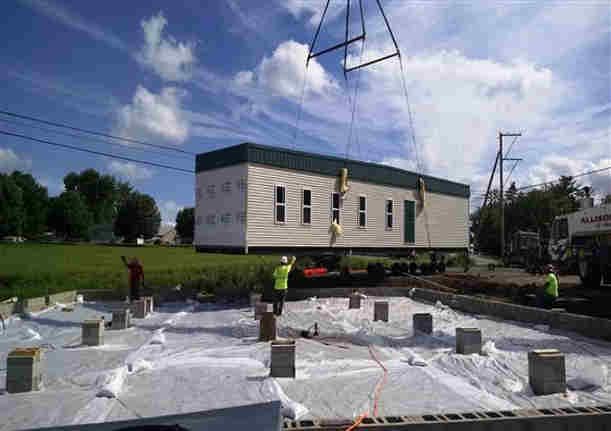 The Modular Building Institute's award-winning modular projects over the last several years illustrate the unlimited possibilities:
Residential – The Domain Apartments in San Jose, CA, cover 450,000 square feet and consist of five 4-story residential buildings with apartments and townhomes in different configurations with private roof-top decks or patio spaces, and high-end common area amenities. This is the largest modular project built on the West Coast.
Educational – The Lady Liberty Alliance Charter School project in Newark, NJ, added 18,000 SF of classroom, faculty and cafeteria space that wraps around an older existing building. A central courtyard provides space where children can safely play away from residential neighbors.  The primary goal was to create the feeling of a campus as quickly as possible on a shoestring budget.
Office – There was minimal disruption to the existing site and residential neighbors during construction of the Britco Agassiz office expansion in Agassiz, British Columbia, which involved six contemporary modules and a roof clerestory module. Lots of light and wood elements harmonized with the natural and rural location. The space is designed for easy expansion as needed.
Healthcare – The 2-story Veterans Affairs Psychiatric Hospital in Los Angeles, CA, involved the construction of modules that accommodate 30 exam rooms, 59 offices and consultation rooms, break rooms, waiting rooms, and other supporting spaces, and blend seamlessly into an existing medical campus. The cost of on-site finish work was minimized by fully finishing many of the enclosed modules in the factory (flooring, ceiling, paint).
Special Use – Salisbury University in Salisbury, MD, needed a temporary sound-proof radio trailer to house equipment and a radio tower during renovations.  The flexibility of modular construction and the ability to relocate the module to another location on campus in the future added to the cost-effectiveness of the project.
Modular buildings are designed, engineered and fabricated in a factory environment and then transported to the building site for assembly. They are engineered so that HVAC systems, plumbing, electrical lines, stairwells, and other components are already in place, and inspected before delivery.
Get the modular space you need quickly. Contact modular building companies in your area when you're ready to expand.